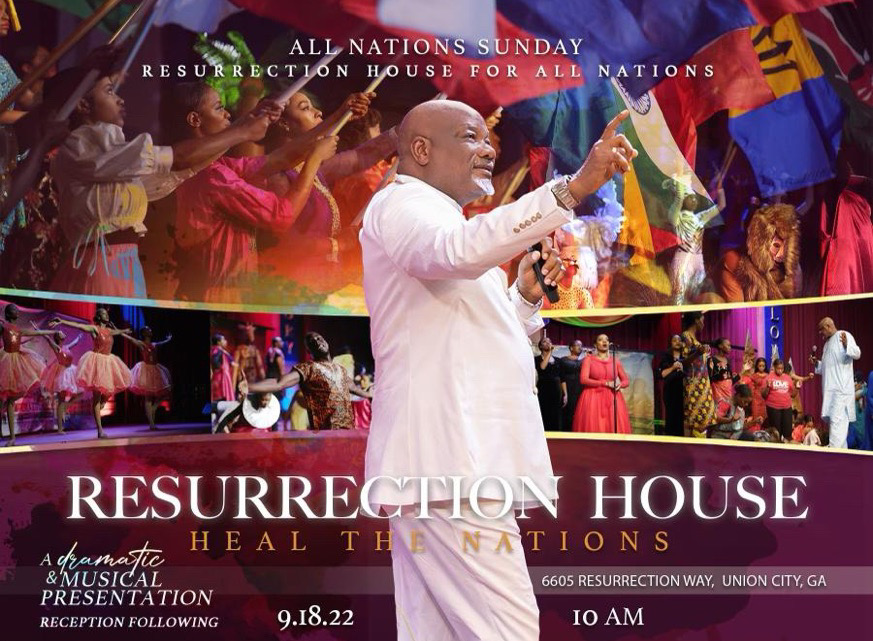 ALL NATIONS SUNDAY IS THIS SUNDAY
SEPTEMBER 18, 2022 at 10 a.m.
We are excited and ready for God's glory to move in a mighty way! Our theme this year: Resurrection House, Heal the Nations!
Invite your family, friends, neighbors, and all to come and experience the resurrection grace and glory in this awesome time of praise, worship, singing and dancing.
Everyone is invited to attend the reception in the East Lobby immediately following the service. Come feast on a delicious assortment of food and beverages from the nations represented right here at RHFAN!
The cost is only $5 per person 12 years old and over. Please DO NOT use our regular giving site to pay. To pay online, use the church app. Cash and checks will be
accepted at the table in the lobby. Be sure to receive a wristband as you enter the reception.
Get your copy of the conference teachings TODAY! You will learn the mechanics of the mastery of self. Listen to these powerful teachings over and over again and let this wisdom from heaven transform your life and make you ready for God's use in the End Time Global Harvest.
• The Crucifixion of Self | Apostle Chika Onuzo
• Personal Transformation from the Altar of Sacrifice | Apostle Chika Onuzo
• Redeemed for the Spirit Life | Bishop Victor Uzosike
• Spiritual Reality in the Supernatural | Bishop Victor Uzosike
• The Power of Baptism: Preparing Our Hearts for Open Heavens| Apostle Chika Onuzo
• Spirit to Spirit: Spirituality, Power & Grace | Bishop Victor Uzosike