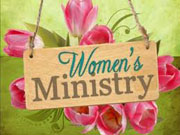 Under the leadership of First Lady LaTanya Onuzo, the Women's Ministry is dedicated to helping women apply lifestyle truths and spiritual laws to daily victorious living.
Women's Monthly Fellowship
This monthly gathering is designed to be a celebration of sisterhood and to foster closeness and a spirit of unity between the women of RHFAN. Monthly events vary depending on how the Spirit leads, but each works to uniquely bond the sisters together that they may love and support each other in Christ.