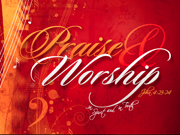 The Music Ministry is made up of talented, consecrated and anointed ministers under the rule of God. These ministers provide music on a rotating basis for all services and special events. Auditions are required for participation in the music ministry. Regular and punctual attendance at rehearsal is also required.
Adult Choir (Voices of Glory)?
The Adult Choir enjoys ministering in the worship service through music that testifies to God's greatness, love and faithfulness. They grace the congregation with many kinds and styles of music to the adoration of God and for the edifying of the body.
Children's Choir
This ministry features the joyful voices of youthful praise from children ages 3-12. In this beginning choir, children learn about pitch, rhythm and memorizing music. They minister to the Lord in simplicity and Godly sincerity.
Praise Band
Worship jams begin here in the heart of these ministers of music. The Praise Band helps bring people closer to God through anointed praise and worship. These godly musicians use their talents to produce music that honors and glorifies God.
Praise Team
To the RHFAN Praise Team, worship is a lifestyle not an event. Ever sensitive to the moving of the Holy Spirit, these leaders have dedicated their lives to ushering God's people into the holy of holies, and an all-consuming worship experience with our Lord.
Psalmists' Ministry
This Ministry teaches and trains psalmists and aspiring psalmists how to get before God and receive psalms, hymns and spiritual songs that articulate His majesty. Psalmists are encouraged to birth songs from the throne room and to sing to the glory of God. Because of their genuine heart of worship, these ministers of song are able to bring others into a sincere worship experience.
Teen Choir (Comprised of Middle and High School Students)?
This group of young people, ages 12-18, desire to use their God-given talents to worship our Savior in spirit and in truth through various forms and styles of music. They have a unique call in their approach and manner of worship to the Lord.
Young Adult Choir
The Young Adult Choir provides singers, ages 18-25, with an opportunity to declare the love and majesty of God in contemporary, versatile and authentic expressions. These ministers of music help worshippers to become immersed in praise.