Evangelism
The Evangelism Outreach Ministry's mission is to fulfill the great commission. "And He said unto them, Go ye into all the world, and preach the gospel to every creature." ~ Jesus (Mark 16:15)
Our vision is to make a positive impact upon the metropolitan Atlanta area by helping individuals and families grow and flourish in their faith and personally experience the love of God in their day-to-day lives. The Evangelism Outreach Ministry ministers the Word of God through outdoor crusades, door-to-door outreaches; prison, hospital, nursing home and retirement center visits; various musical, athletic and entertainment events; and creative strategies (i.e., neighborhood bus drives, block parties).
Evangelism is at the foundation of the Outreach Ministry. The Evangelism Team is a trained army of zealous believers, winning souls for Christ. The Street Evangelism Team goes into the forgotten and neglected parts of surrounding cities to "save with fear" those whom the Holy Spirit has drawn. (Jude 1:21-23)

Prison/Jail Ministry
This ministry team takes the gospel to men and women who are incarcerated and equips and empowers them to be productive in their community, and to be a role model for local churches and prisoners. English and Spanish-speaking volunteers enter the prison systems to spiritually set the captives free.
Nursing Home/Retirement Home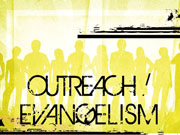 This group of ministers and volunteers visit nursing homes and retirement center residents who request a visit or whose families request a visit. Volunteers visit people who are shut-in due to age and physical limitations and share the Word of God.
Hospital Outreach Ministry
This ministry team prays and preaches the Word of God in hospitals and homes. Ministers and trained volunteers provide prayer support, comfort and visitations to RHFAN members and those in the community who are hospitalized, sick at home or convalescing. The Hospital Ministry is the official RHFAN representative for ill members.
This ministry works with the National Meals on Wheels program to provide hot meals to the elderly and shut-in of the community.