Called to Preach the Gospel of Jesus Christ to the Nations
We're bold. We're passionate. We're obedient. We're radical. We're grateful. We're humble. We're faithful. We're hungry for God. We're thirsty for Jesus Christ. We're passionate about His people.
We Thank God for Moving at our 2019 Healing Crusade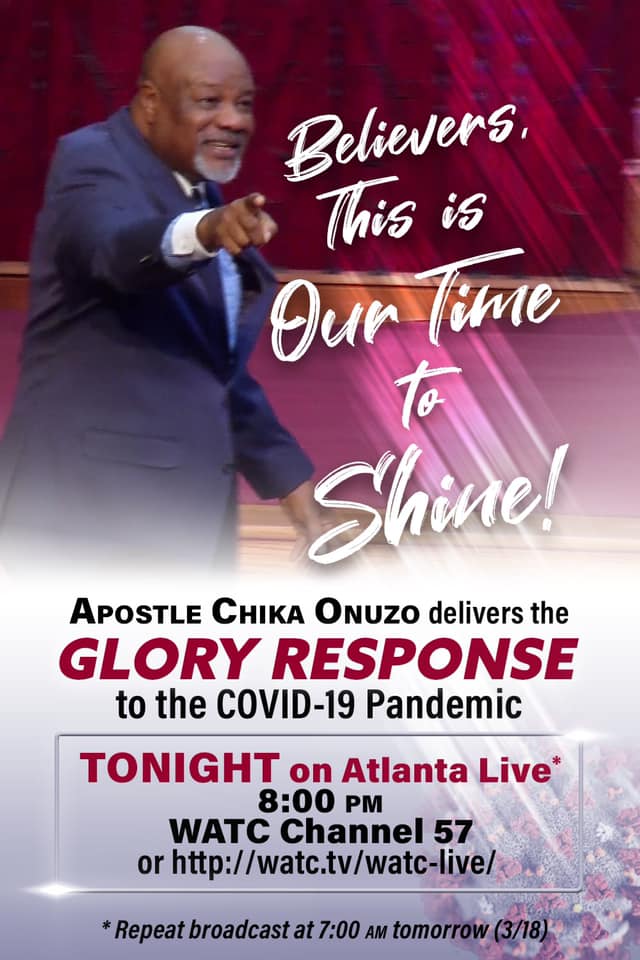 Don't Miss Apostle Chika Tonight at 8 p.m.
Tune in tonight, Tuesday, March 17, 2020, to WATC-TV 57 and spread the word about this broadcast! Let the city, the nation, and the world hear a powerful message of hope from Apostle Chika Onuzo! #GloryResponse #COVID19 #AtlantaLive #WatchTonight
6605 Resurrection Way • Union City, GA 30291
Sunday Worship Service: 8 am & 11 am
Wednesday Night Bible Study: 7 pm
Friday Night Prayer: 7 p.m.
Focus 24:6 Teen Ministry: Fridays at 7 p.m.
Fresh Fire Young Adult/College Ministry: Fridays at 7 p.m.