RHFAN EVENTS
There's ALWays Something Exciting Happening at RHFAN!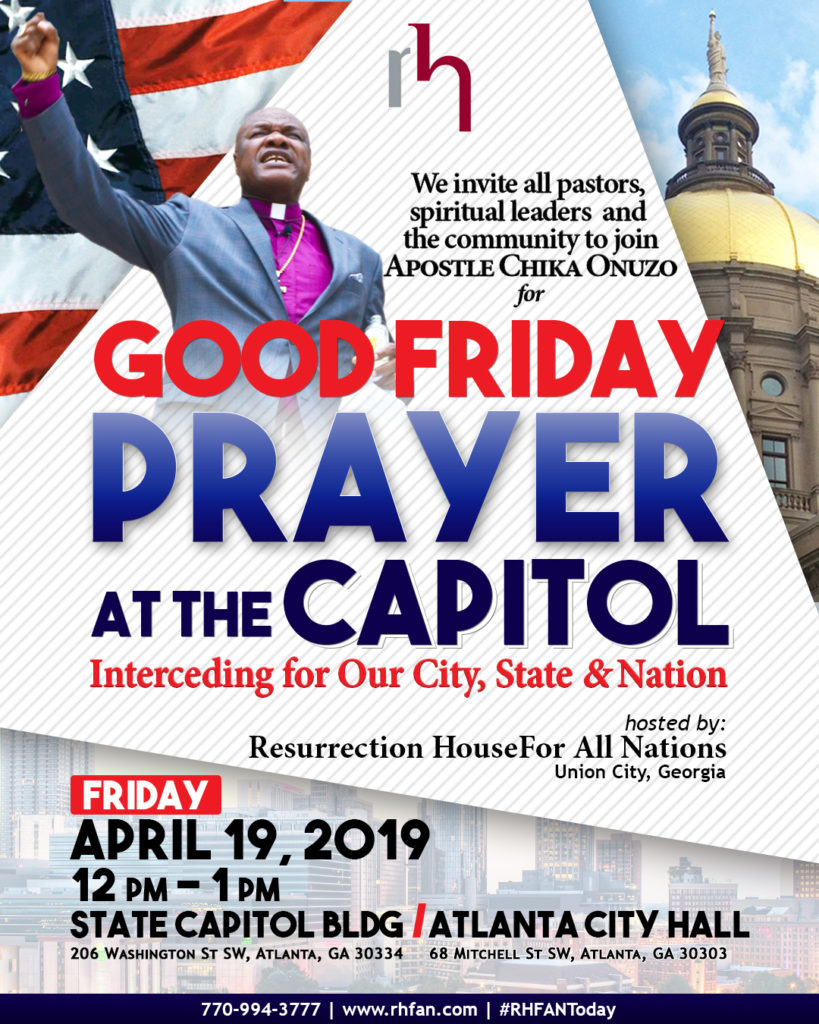 Annual Prayer at the Capitol Calling all Pastors, Intercessors, Spiritual Leaders, Believers in Jesus Christ and Members of the Community: Join us on Good Friday, April 19 at 12 p.m. for Prayer at the Georgia State Capitol and Atlanta City Hall.
We will end the evening with a Good Friday service at 7 p.m. at Resurrection House for All Nations located at 6605 Resurrection Way, Union City, Georgia)
MARK YOUR CALENDARS FOR UPCOMING RHFAN EVENTS
RESURRECTION SUNDAY 2019: On Resurrection Sunday we'll have one service at 9 a.m., followed by our Resurrection Parade through downtown Atlanta and back to RHFAN. Stop by the table in the lobby to order testimony signs to share what theresurrection of Jesus Christ means to you personally. Order forms are due by TODAY, Wednesday, April 10 at the conclusion of Bible study.

National Day of Prayer 2019: Love One Another

"…as I have loved you, that ye also love one another." John 13:34 Our 12th annual South Fulton County National Day of Prayer observance is on Thursday, May 2 at 12 p.m. on the steps of City Hall in Union City. We need a baptism of love by the Holy Spirit that will immerse all of South Fulton County and the entire Church of Jesus Christ in America today. For more information see Min. Art Hall
Resurrection ATL Crusade

at Centennial Olympic Park

Sunday, May 19, 2019

Following church service, come be a part of this exciting opportunity to publicly celebrate Jesus and tell the world that salvation is possible only through the resurrection of Jesus Christ! Invite family, friends and neighbors to witness this awesome event.
As God has spoken, so shall it be.

Join us at The CONQUEST 2019: ETANet & IGNITE Youth National Conference on Thursday, July 11

through Saturday, July 13

.

Glory Fall: WASHINGTON, D.C. Attention Mission-minded Agents, save these dates: Sunday, September 1

through Wednesday, September 4

. The Mission: We will raise altars in and around Washington D.C.WE expect the Glory of God to change the course of our nation.
MEMBERS CLASSES
Join us immediately following the 8 a.m. service in the Members' classroom upstairs.
Friday Night Fire! Join us each Friday at 7 p.m. for Prayer and Intercession, Focus 24:6 and Fresh Fire!
Daily Devotionals With Apostle Chika Onuzo